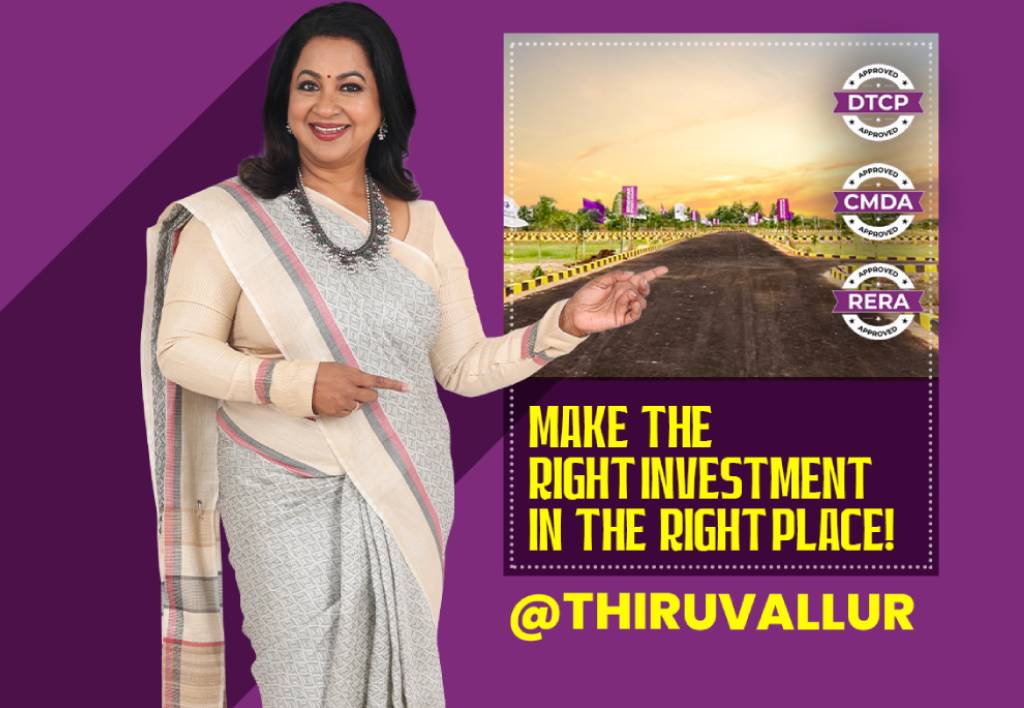 Tiruvallur is a fast-developing city near Chennai. It is the administrative headquarters of the Tiruvallur district and has emerged as a metropolis. The city is also known for the Veera Raghavar temple, one of the 108 sacred shrines of Vaishnavites, and Poondi reservoir, from which drinking water is drawn to Chennai city, which is about 9 km from Tiruvallur. Invest in Tiruvallur – multiply your investment and build your dream home in Tiruvallur city which is closer to NH 205 and the new High way connecting Avadi in just 30 minutes. Fast-growing Tiruvallur town is a prospective real estate location for Investment & just right for your family's future. With direct bus facilities from Koyambedu and closer to main Highways and connectivity Tiruvallur is already witnessing a fast increase in real estate pricing. There is nothing like a real estate investment in promising real estate destinations near Chennai like Tiruvallur. Brindavan Officers' Enclave is RERA and
DTCP Approved Premium Villa Plots
which multiply your investment in the near future.
Brindavan Officers Enclave
Villa Plots for Sale in Tiruvallur
Why Buy Villa Plots in Brindavan Officers Enclave?








Location Advantages
Locality Highlights
Tiruvallur is a fast-developing city near Chennai. It is the administrative headquarters of the Tiruvallur district and has emerged as a metropolis. The city is also known for the Veera Raghavar temple, one of the 108 sacred shrines of Vaishnavites, and Poondi reservoir, from which drinking water is drawn to Chennai city, which is about 9 km from Tiruvallur.
Invest in Tiruvallur – multiply your investment and build your dream home in Tiruvallur city which is closer to NH 205 and the new High way connecting Avadi in just 30 minutes. Fast-growing Tiruvallur town is a prospective real estate location for Investment & just right for your family's future.
With direct bus facilities from Koyambedu and closer to main Highways and connectivity Tiruvallur is already witnessing a fast increase in real estate pricing. There is nothing like a real estate investment in promising real estate destinations near Chennai like Tiruvallur.
Brindavan Officers' Enclave is RERA and DTCP Approved Premium Villa Plots which multiply your investment in the near future.
6 Reasons to Invest in Brindavan Officers Enclave
Investment Hubs that Rapidly Grow Around National Highways