Investing in land in growth oriented areas has always resulted in rich dividends for investors and ground realities have to be adhered for safety and security, surveys V Nagarajan.
Chennai city has an estimated population of 4.9 million, with an area that has grown from 176 square kilometers to 426 square kilometers after a 2011 expansion. The urban agglomeration, which includes the city and suburbs, has a population estimated at 9 million. This makes it the 4th most populous metropolitan area in India and the 31st largest urban area in the world.
Earlier, the government had proposed to expand the CMA to cover 8,878 sq.km from the present 1,189 sq.km. However, the proposal has been recently revised to cover 8,300 sq.km.
Chennai is by far the most densely populated city in Tamil Nadu, with a density of 26,553 people per square kilometers, very far ahead of the next city, Kanyakumari with 1,111 people per square kilometer.
Chennai has the third largest expatriate population in the country behind Mumbai and Delhi, estimated at almost 90,000.
Chennai is the largest commercial and industrial center of South India as well as a cultural, economic and educational center. It is also known as the "Detroit of India" with a thriving automotive industry.
Book a Villa Plot for INR 50 Lakhs in Padur, OMR – The IT Corridor.
Chennai's economy is majorly driven by automobile, electronic hardware and IT-ITES industry. The total exports of automobile and auto components touched US$6.8 billion in 2017-18 registering a growth of 19% over the previous year. The electronics hardware industry in the state is primarily concentrated in Chennai. The state ranks second in the production of electronic hardware in the country and has been the third-largest exporter in the country during 2017-18, accounting for US$1.27 billion. The IT-ITES sector has been a dominant economic driver of the city in the past decade. Industry estimates that till 2017-18 the revenues of the sector were around US$ 18.51 billion and created direct employment of over 4,00,000 people.
With the surge in population and the need for housing, a number of developers have plunged in to real estate development. A few smart investors spotted a golden opportunity and started investing in land in city and suburban areas. A number of industrial undertakings too joined the bandwagon. Land has been appreciating by not less than 15 per cent every year, according to reliable sources in the industry. Those who have wisely invested in land were able to reap rich dividends and a number of companies could wriggle out of financial imbroglio due to surge in land prices over the years.
Book a Villa for INR 55 Lakhs in Mogappair West, Chennai.
This is one reason why the middle-class people are always keen to earmark a portion of their investment portfolio in smaller sites. A number of layout developers saw a huge market for the developed plots in and around the city.
Those who had wisely invested in city areas are able to see their returns multiply and even those who had put a smaller investment in suburban areas also are rewarded handsomely. This historical cost of the land in select areas (in tables) clearly illustrates this trend.
With the easing of FDI norms, a number of growth corridors have sprung across Chennai and it is where wise investors in land had made a killing during that time. There was no rationale to explain the soaring prices but demand and supply that tilted the prices.
The impact has been felt in other corridors as well. The IT corridor on OMR during the first phase from Madhya Kailash to Siruseri has several rags to riches story to narrate out of land revenue. The cascading impact on Vandalur-Kelambakkam, Perumbakkam and the buzzling radial road, Thuraipakkam-Pallavaram, has made landowners millionaires and billionaires.
After a considerable lapse of time, second international airport has been firmed up in Parandhur in Sriperumbudur which has already created a spurt in land prices in the vicinity. The Bengaluru-Chennai expressway work has begun and its impact in the neighbourhood need not be overstressed.
A review of the key developments in the growth corridors would certainly convince the investors in land that investing in land is one of the best options for long-term return on investment. In the event of infrastructure development or major projects are announced, then the returns would be even in the medium term for investors.
Investment in Plots – Checklist
Title deeds
Death certificate in case of inheritance by intestate succession.
Will and probate in the event of testamentary succession
Revenue documents like Patta, Chitta and Adangal
EC for a minimum period of 30 years
Layout sanction of the plot
Proof of documents to show remittance to EB, MMWSS&B, etc.
Plot loans are available while investing in land. The rate of interest varies from 7.25 per cent to 9 per cent. NRIs are also eligible to seek plot loans while working abroad. The repayment period varies depending on the age, income potential and savings.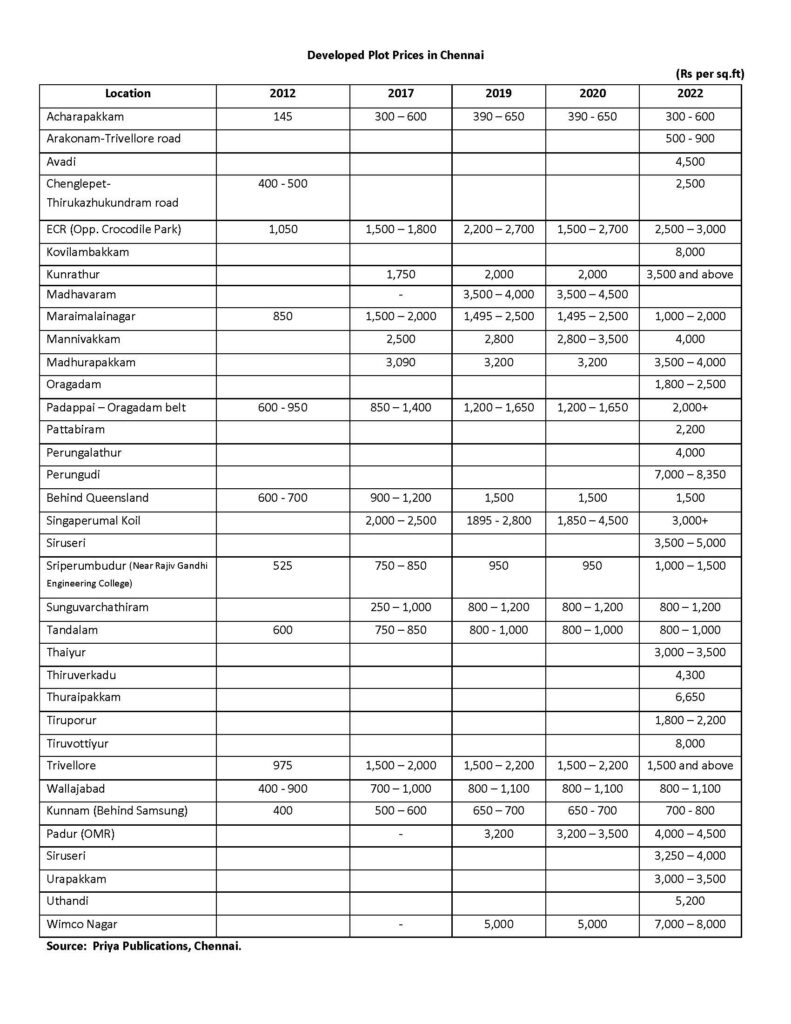 Note: The above rates are indicative only for CMDA/DTCP approved plots. They may vary depending on the location, developer, specification and amenities offered in the project.
Chennai real estate is a very vast market. There are 1000s of trusted real estate companies and may be more of independent real estate agents. You need to consult with trusted real estate professionals and real estate companies in order to safely invest in secure real estate properties.
Consider Propshell Developers – a 15 Year old real estate company in Chennai having excellent properties in hot destinations. They have villa plots for sale in Padur OMR, Villa Flats for Sale in Mogappair, Plots in Arakkonam, Farm House For sale in Kodaikanal etc. Visit their website for other real estate properties for sale in Chennai.